【World Wide Shipping】
4,205JPY
Book+World shipping



【Payment】
We accept payments only by PayPal.
【Delivery Time, Risk, Duty of Disclosure】
Delivery from Japan takes between 10 and 30 working days for deliveries abroad according to destination.
【Risk】
The risk shall pass over to the customer as soon as the products are handed over to the shipping agent, carrier or the person or institution appointed to deliver the products. If you do not receive the product in a month after your order, please contact us by e-mail. In case of mistaken delivery or defectiveness, Please inform us of the return of the product. In other cases, postage for returns is to be paid by customers.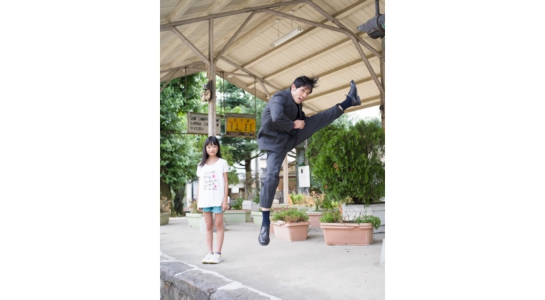 ステイトメント/STATEMENT
画一的に見えるサラリーマンも、きっと誰かにとってのヒーローであり、
おかしみのある個性的な存在である。"

2006
サラリーマン一筋で生きてきた父親のことを、私は亡くなってから強く尊敬するようになりました。
サラリーマン経験のない私は、会社を背負って汗水流して働く父親たちが、
空を跳ぶヒーローに変身する一瞬を見つけることに、強い感動と希望を抱きます。
記号的なスーツ姿のサラリーマンを日常の世界から跳ばせることで、
彼らは輝きを放ち、個性をみせてくれます。
その姿を私は、亡き父親の理想像に重ねながら作品を制作しています。

2015
私はサラリーマンの息子として、とても誇りを持っています。
そして私は写真家になり、今ではサラリーマンを撮り続けています。
いずれ、私も父親になる日が来ることでしょう。
子供のために生きる、父親の"生き様"を。
思春期の娘との、微妙だけど幸福な"距離感"を。
これからも、ソラリーマンを通して表現したいと考えています。

"Businessmen may all look run-of-the-mill,
but each one has his own special brand of humor
and individuality and is a hero for someone."

2006
My father spent the greater part of his life as a businessman devoted to his work.
It wasn't until after he died that I developed a deep respect for him.
Not having experience as a businessman myself,
I'm deeply moved and filled with hope at finding the instants when dads
who sweat and struggle to keep their companies afloat and prosperous transform into heroes flying through the sky.
Businessmen in their iconic suits sent leaping away from the mundane world, shine and show their individuality.
As I mentally superimpose their figures on the ideal of my dead father, I create my photographic works.

2015
I'm very proud to be the son of a businessman.
I became a photographer and now I continue to photograph businessmen.
I'm sure the day will come when I become a father.
The "way of life" of a father whose children are of first importance.
The subtle but happy "sense of distance" between father and adolescent daughter.
These are things I hope to express as I continue photographing businessmen.





プロフィール/Profile
http://yukiao.jp

1978年 愛知県名古屋市生まれ
2005年 筑波大学第二学群人間学類心理学専攻 卒業
2007年 キヤノン写真新世紀優秀賞 受賞(南條史生選)

国内・海外(2009シンガポール・2012スペイン・2013香港など)の展覧会で作品を発表しながら、今までに37冊の書籍を出版している

最新刊『むすめと!ソラリーマン』(KADOKAWA)の画像が、イギリスBBC・The Independent・Daily
Mail・Metro、アメリカQuartz、ドイツSpiegelなど、世界各国のニュースにて取り上げられる

主な書籍に『ソラリーマン』『スクールガール・コンプレックス』『絶対領域』『吉高由里子
UWAKI』『透明人間⇆再出発』『パイスラッシュ』『スクールボーイ・コンプレックス』『僕の妹は、写真家になりたい。』『台湾可愛 Taiwan
Kawaii School Girl』など

主な仕事に『さしこ(指原莉乃フォトブック)』グラビア、映画『思春期ごっこ』メインビジュアル&写真集、映像『無気力スイッチ(さよならポニーテール)』など、広告(au、リクナビ、野村不動産、本厚木ミロードなど)、ミスiD2015選考委員など

PHaT PHOTO 写真教室、写真の学校 東京写真学園などで、ワークショップ・ゼミの講師を務めている

サラリーマンや女子学生など"日本社会における記号的な存在"をモチーフにしながら、自分自身の思春期観や父親像などを反映させた作品を制作している。
日本ならではの人間関係の複雑さを、シンプルなビジュアルで世界に伝えることを目標としている。


1978 Yuki Aoyama was born on April 15 1978 in Nagoya, Aichi Prefecture, Japan.
2005 Graduates from University of Tsukuba, College of Humanities,
majoring in psychology.
2007 Won Excellence Award in Canon New Cosmos of Photography 2007.

Publishing 37 photographic collections, Yuki Aoyama has hold
exhibitions in Japan and in foreign countries: Singapore(2009),
Spain(2012) and Hong Kong(2013). Some works in his latest book "Musume
(daughter) to Sorariman" published by KADOKAWA was featured by
overseas media: BBC (UK), The Independent (UK), The Daily Mail (UK),
Metro (UK), Quarts(USA), CNN(USA) and Spiegel (Germany).

Photographic Collections:
Solaryman (2009)
Schoolgirl Complex (2010)
The Absolute Territory(2011)
Schoolgirl Complex 2(2011)
Pi Slash(2012)
I can't help jumping! Solaryman Japan Tour(2012)
Schoolgirl Complex 3(2013)
Schoolboy Complex (2014)
My sister wants to be a photographer.(2014)
Taiwan Kawaii School Girl(2014)