5,800JPY
Book+World shipping



【Payment】
We accept payments only by PayPal.
【Delivery Time, Risk, Duty of Disclosure】
Delivery from Japan takes between 10 and 30 working days for deliveries abroad according to destination.
【Risk】
The risk shall pass over to the customer as soon as the products are handed over to the shipping agent, carrier or the person or institution appointed to deliver the products. If you do not receive the product in a month after your order, please contact us by e-mail. In case of mistaken delivery or defectiveness, Please inform us of the return of the product. In other cases, postage for returns is to be paid by customers.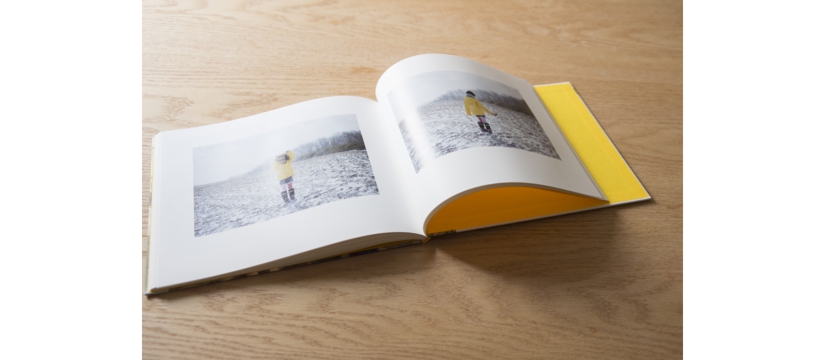 ステイトメント/STATEMENT
Daydream Believer

「友達の前では手は繋ぎたくないなぁ」
申し訳なさそうに娘が言った言葉に、
もうすぐ今の関係が終わるのを予感した。
娘、保育園年長。
ふと大人っぽく見えたり、突拍子もなく奇声を上げたり、
妙に深い質問をしてきたり。
こんなに不思議で楽しい生き物と過ごせたひびを、
僕は忘れたくないと思ったし、 忘れないでほしいと願ったけれど。
まるで夢のように、僕らが過ごした時間は、
ほとんどが記憶から消えてなくなる。
その事実を前に、僕は写真を撮る事を選んだ。
さて、僕もそろそろ次の夢の準備をしよう。

I don't want my friends to see us holding hands.
Said, my daughter who is at the last year at kindergarten.
Uttered with hesitance, which makes me realize something is going to end.
She suddenly starts screaming
But she suddenly throws me very deep questions,
And she suddenly looks very mature.
I don't want to forget this mysterious but fun days with her.
I don't want her to forget our time together.
The time we spent together will slowly fade from our memory.
Just like a dream.
Thinking about our growth, I decided to take pictures.
Now, it's my time to start preparing for my next dream


-寄稿-

彼女は虎の面をかぶったクイーン。
あまりにも愛おしい今を見つめることで発見する。
寄せたり引いたりしながら確認する。
父として、男として。
ただただ日常の積み重ねが、機微の変化につながる。
歩く。話す。生きる。
撮る。
虎のしたの素顔を 記憶する永遠の夢。
夢は誰かの密やかなアルバムにとどまらず、
佐久間さんの写真によってメッセージになった。
キラキラ輝く光をトラえる目がいい。
百々 新

She is a queen in a tiger mask.
We can come across important things by looking at her in the pictures.
By looking at her closely and distantly.
As a father. As a man.
Piles of time make us grow.
Walk, talk, live.
And take pictures.
Everlasting dream that retains her true face under the tiger mask.
Not only just kept in a small album,
But also the dream can deliver messages through the pictures.
I like the eyes that capture the lights like a tiger.

Arata Dodo


プロフィール/Profile
1975 東京生まれ
2003 個展「ハゴロモ」ニコンサロン・新宿
2004 アンコール展「ハゴロモ」ニコンサロン・大阪
    ヤングフォトグラファーズ展 出展 韓国・大邱(テグ)
2015 個展「Daydream Believer」エプサイト・新宿
    写真集「Daydream Believer」LibroArte


1975 Born in Tokyo.
2003 Solo exhibition「HAGOROMO」 NikonSalon, Shinjuku.
2004 Encore exhibition 「HAGOROMO」NikonSalon, Osaka.
    「MEMBERS OF YOUNG PHOTOGRAPHERS EXHIBITION」Daegu,Korea.
2015 Solo exhibition「Daydream Believer」epsite,Shinjuku.
  Book「Daydream Believer」by LibroArte.