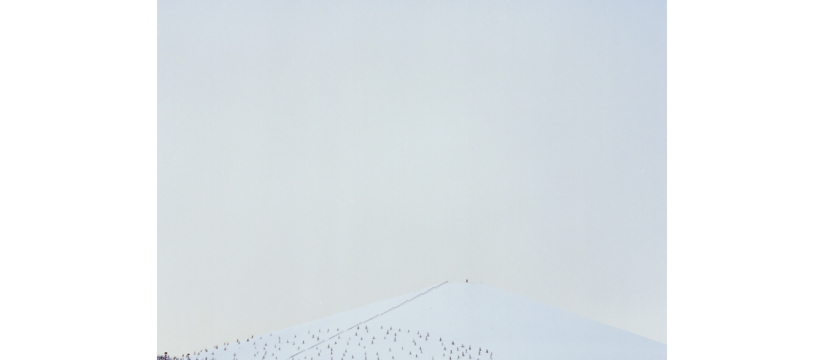 ステイトメント/STATEMENT
私が育った場所は東北の田舎町。
町を照らす灯りは少なく、
月や星が出ない日は闇が深くなり、
夜がやって来るのがこわかった。

冬になると雪が大地を覆い、
辺り一面白い世界へと変えて行く。

夜でも空が明るい。
まるで別世界に来てしまったかのようで
不思議でずっと眺めていた。

その頃の自分に導かれるように、2008年から8年間に及ぶ
「echo」シリーズの撮影が始まった

白いベールに包まれ、自分以外何も見えなくなるほど視界が奪われる時がある。
ここは現実なのか、心の中の世界を見ているのか、その狭間をさまよいながら歩く。

意識を集中させると色んな息吹の音が聞こえてきて
それに呼応しながら写真を撮っていると
心の余計なものが削ぎ落とされていく。

まるで子供の時に、
見えていた世界に触れているような
昔を懐かしむ、やさしい時間がそこにあった。

I grew up in a small town in the countryside in the northeast region of Japan.
There were few lights to light up the town,
so on days when the moon and stars couldn't be seen there was a deep darkness that made me afraid of night falling.

In winter the snow blanketed the earth, turning the town into a white world.

Even at night the sky was bright.
It seemed like I had wandered into a completely different world
that was strangely wonderful and I would gaze at it for a long time.

I began photographing the echo series in 2008 over a period of eight years,
guided by myself as I was then.

Sometimes my field of vision was taken away,
covered by a great white veil so that I could see nothing but myself.
I wondered whether it was the real world or just one that I was imagining in my heart
and walked on, wandering through this indeterminate space.
Focusing my mind, I could hear sounds of breathing of various kinds;
as I took photographs in response to each of these sounds the emotional baggage in my mind gradually fell away.

It seemed that I was touching the world just as it appeared to me
when I was a child; it was a gentle time of remembering the past with fondness and yearning.

プロフィール/Profile
1979 宮城県生まれ
2003大阪芸術大学写真学科卒業

個展

2003 「うたかたのゆめ」LIGHTWORKS
2009 「echoes - in the deep snowy mountain」 
   TANTO TEMPOギャラリー
2013 「echoes」THERME GALLERY

グループ展

2008 「菊地和歌子・阿部マリイ展」THERME GALLERY
2011 「時折×photta-lot-photo marché- Seth High | Kikuchi Wakako」



Wakako Kikuchi
Born in Miyagi, Japan, 1979.
Graduated from the Osaka University of Arts, Department of Photography in 2003.

Solo Exhibition
2003 "utakata no yume" LIGHTWORKS, Yokohama
2009 "echoes – in the deep snowy mountain" Gallery TANTO TENPO, Kobe
2013 "echoes" THERME GALLERY, Tokyo

Group Exhibition
2008 "Kikuchi Wakako・Abe Mairi" THERME GALLERY, Tokyo
2011 "tokiori×photta-lot-photo marché- Seth High | Kikuchi Wakako"